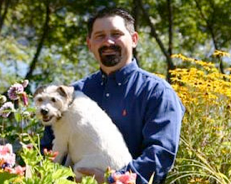 Dr. DePaolo grew up in Sherwood, Oregon and during a Boy Scout summer camp near Mt. Hood, fell in love with horses. His first horse, Shadow, was a rescue from a neglectful neighbor. That inspired Dr. Mark to pursue a career in veterinary medicine to help other horses and educate their owners. He earned his veterinary degrees from Oregon State University and Washington State University in 1994.
After working at Deer Park Veterinary Clinic and South Clackamas Veterinary Service, both mixed practice clinics, Dr. Mark decided to specialize. He furthered his education by learning equine chiropractic and acupuncture in order to open his own practice, Pacific Northwest Equine, Inc. He graduated from Colorado State University's Acupuncture program in 2000.
In 2005, Dr. Mark's passion in holistic care spurred him to create a new venture, DePaolo Equine Concepts, Inc. This web-based business focuses on equine nutrition and owner education. Dr. Mark is constantly striving to create new methods to treat the many problematic issues people experience with their horses.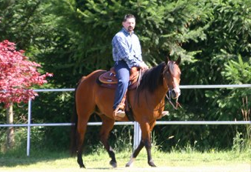 Looking to broaden the awareness of holistic equine medicine, Dr. Mark moved to Horse Country U.S.A. in the summer of 2011. Using Pilot Point, Texas as his base of operations he opened a new veterinary practice, All Star Equine, LLC.
In his spare time Dr. Mark enjoys competitive shooting, inventing, traveling, and spending time with his wife, their horses and their dogs. Dr. Mark would like to share that he was the fastest in his class at the Las Vegas Richard Petty Driving School, where he drove a NASCAR-style race car 139 mph!